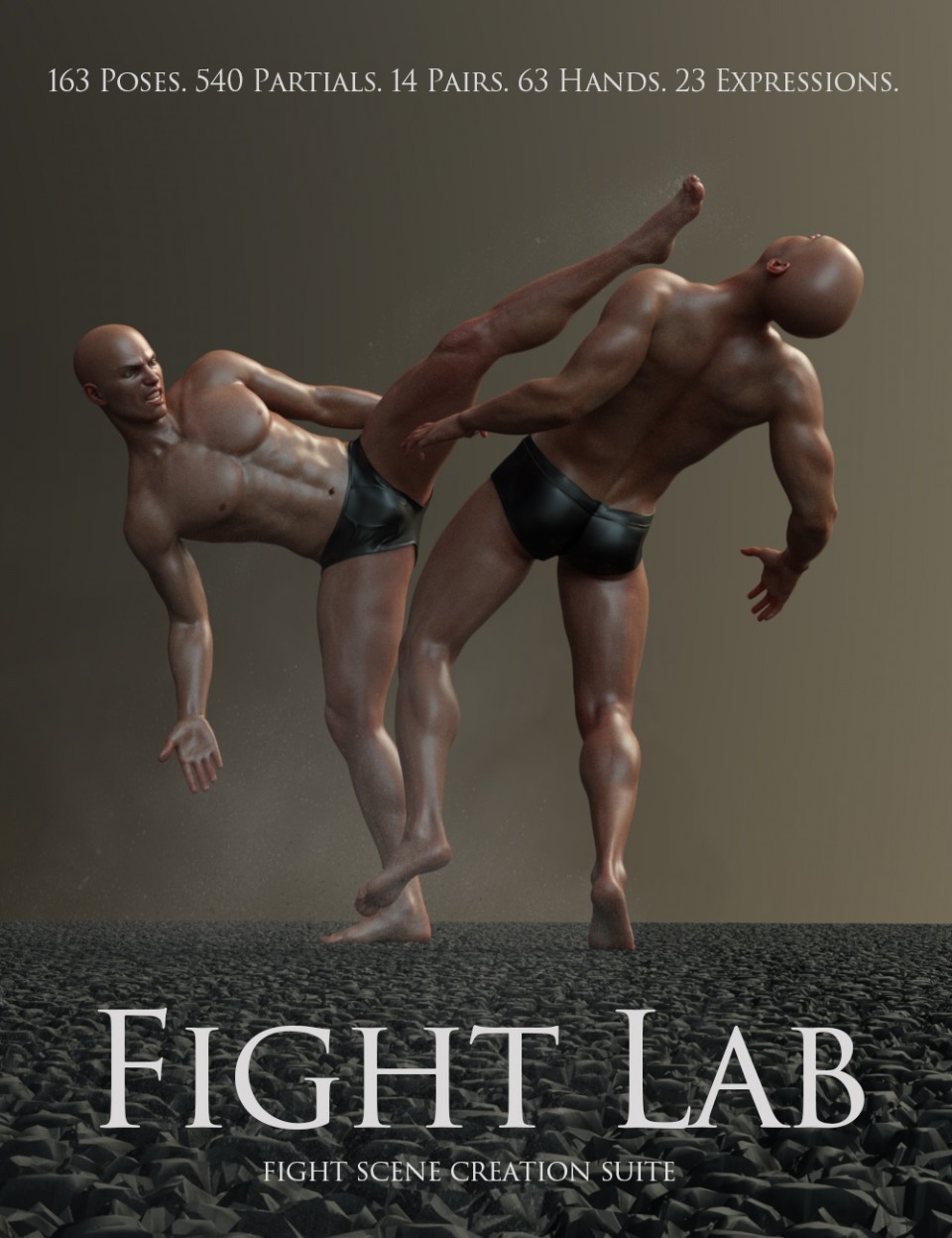 简介:
Fight Lab is a suite of base poses and expressions for Genesis 8 male, designed to streamline the creation of fight scenes. Consisting of eight individual pose collections, each complimenting the others, Fight Lab allows the practiced 3D artist to skip the tedious aspects of initial character posing, and jump straight to the fine tuning and rendering, in just a few clicks. Choose from a massive selection of over 160 meticulously crafted poses (and 135 mirrors!), or create your own by mixing the 540 partials. Don't like the hands? Swap them out from a collection of 63 different choices. Don't want to spend hours trying to get just the right facial expression? There are over 20 included.
Features of Fight Lab include: 
40 Punching and elbowing poses. Crosses, hooks, jabs, straight punches, uppercuts, backfists, down low, up high, cork screws and palm strikes. Even a headbutt! The bases you need are here.
20 Receiving poses. Base poses for what happens when you're on the receiving end of a beating.
28 Kicking and kneeing poses. Straight kick, side kick, lateral kick, hammer kick, round house, or flying kick. Whatever kind of kick you need the base for, you'll probably find it here.
16 Fallen or falling poses. Did your character get knocked off their feet, or knocked out cold? These base poses have you covered.
15 Blocking and dodging poses. Did your character barely miss getting his lights knocked out by an epic attack? Or did he block it completely? Whatever story you're telling, these base poses are there to get you to render time faster.
10 Squaring off poses. Before the fight, or in between blows, these poses help you get your characters into position.
14 Grappling pairs. This collection covers the most common grappling positions, like the armbar, head lock, shoot, tackle, and takedown.
63 Hand poses. Need an extended knuckle fist? An eye rake? A palm strike? They're all here, for both left and right hands. Not sure what to do with a character's hand? Almost all of the static hand poses used to make the poses in Fight Lab are included.
Differentiated partials. Upper body partials load without Hip node Y-axis translations, but lower body partials include the Y-translation. This means effortless mixing and matching. Want that pose's foot stance, but with that pose's upper body positioning, without having to reorient the figure in space? Fight Lab partials mix and match seamlessly, feet touch the ground, and you get to create your own perfect poses in less time.
Gorgeous custom rendered tool tips and thumbnails. Carefully designed for maximum visibility, Fight Lab's thumbnails and tool tips make finding your perfect poses and expressions a breeze. Spend less time squinting at your screen, and more time making your art.
产品原链接:
http://www.daz3d.com/fight-lab-poses-and-expressions-for-genesis-8-male
下载链接:
登录